100th Anniversary of "The War To End All Wars": R.C. Sherriff's Journey's End
California Stage will commemorate the 100th anniversary of "The War To End All Wars" by presenting R.C. Sherriff's gripping drama Journey's End, June 7th thru July 6th 2014.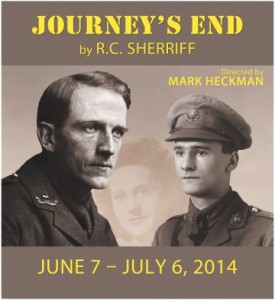 In doing so, the theatre will honor the sacrifices made by those who served from the Sacramento area while calling critical attention to the devastating impact of modern warfare has made on generations of American youth.
Sherriff's study in war abandons the notions of 'war' that echo in hometown newsprint or the mouths of politicians in favor of the War lived by those like him who fought.
He shows us Capt. Stanhope, who commands a British infantry company sitting in the cross-hairs of Ludendorff's brutal 1918 spring offensive. Hardened and stained by three years of war, he struggles to hold himself together despite Lt. Osborne's loyal support and constant care. But when the wide-eyed young Raleigh joins his boyhood hero at the front, Stanhope must reckon his golden past with their absurd, shattering present.  Sherriff gives us only cold lead and poison gas to look forward to in this surreal wartime Waiting for Godot.
Journey's End originally premiered in 1928 at the Apollo Theatre in London starring Laurence Olivier as Stanhope. It enjoyed a highly successful and widely acclaimed West End run before opening on Broadway in 1930. The play has since been revived in the West End in 2004 and 2011.
Ray Tatar produces California Stage's production of Sherriff's Journey's End as the second show of the company's 2014 season. Mark Heckman directs, and Brent Randolph stars as Capt. Stanhope, Robin Henson as Lt. Osborne and Daniel Dorofeyev as 2nd Lt. Raleigh in his California Stage debut.
The cast also includes Brent Dirksen as 2nd Lt. Trotter, Zach Cales as 2nd Lt. Hibbert, Keith Bordsen as Capt. Hardy, Tony Dicorti as Pvt. Mason, and Scott Griffith as the Company Sergeant-Major. The production also features scenic and lighting design by Niels Larsen, and costume design by Jenny Plummer.
See photos of the cast here.
R.C. Sherriff's Journey's End will open June 7th to run five weekends through July 6th, 2014 at the Wilkerson Theater in Midtown Sacramento; Fridays & Saturdays at 8pm & Sundays at 2pm. There will be no performance on Saturday, June 14th.
California Stage Theater is located in the R25 Arts Complex, 1725 25th Street at R Street. Ticket prices are $20.00 for general admission, $15.00 students, SARTA members, Military and seniors, and $12.00 for groups of six or more. Easy free parking available. Reservations: 916-451-5822 or order online at www.CalStage.org.