California Stage is preparing a new season of exciting and inspiring plays.
Here's some info on two upcoming productions, with more to follow!
Opens March 4th! "An Iliad"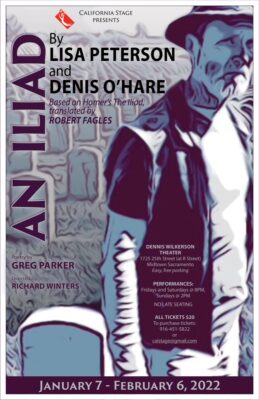 A retelling of Homer's epic tale of the Trojan War.
After a postponement due to the recent Covid spike, California Stage has rescheduled its production of An Iliad (originally scheduled for January, 2022). We will present this remarkable piece of theater starting on March 4th for five weekends.
Why Don't You Sit on My Lap?
One challenging student.
One burned out teacher.
One Ill-advised comment.
The drama isn't staying in the classroom…
This is an original play by a group of emerging theater artists featuring young playwrights. The story is loosely based on an incident in a Sacramento high school.
These plays and others coming in 2022! Watch this space for more on the upcoming season as it develops!
May 6th – June 5th: Showtimes: 8pm Fri-Sat, 2pm Sun.