California Stage one of six theaters in the U.S. chosen to present "The Vanishing Point"
California Stage will bring four provocative plays to Sacramento audiences throughout 2014.  The theatre will open its 23rd season with the world premiere of Nedra Pezold Roberts' captivating new drama The Vanishing Point, followed by RC Sherriff's Journey's End, Peter Weiss' Marat/Sade, and Rick Foster's Love Isadora.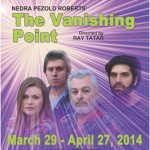 California Stage is one of six theaters in the United States chosen to present an award-winning world premiere from the American Association of Community Theaters' first annual AACTNewPlayFest.  The Vanishing Point by Nedra Pezold Roberts, chosen from 250 entries, tells the powerful story of one family in danger of disintegrating almost as quickly as the fragile Louisiana bayous on which they've depended for centuries. The play will open March 29th to run five weekends through April 27th, 2014 and will be directed by Ray Tatar.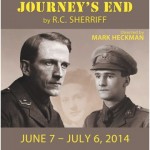 Next, to commemorate the 100th anniversary of "The War to End All Wars," California Stage will present Journey's End by RC Sherriff.  This study in war abandons the notions of "war" that echo in hometown newsprint or the mouths of politicians in favor of the War lived by those who fight—a surreal Waiting for Godot with only cold lead and poison gas to look forward to.  The show will run from June 7th thru July 6th, 2014. This will be directed by California Stage Associate Director Mark Heckman.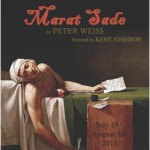 Immediately following, California Stage will present Marat/Sade by Peter Weiss July 19th thru Aug 10th. Marat/Sade reveals what happens when the "1%" goes too far and takes too much: the eruption of bloody violence and revolution. Set to music and song by the Marquis de Sade in a madhouse south of Paris,  Marat/Sade shocked American audiences in the 1960's. Last year, the play proved its continued relevance in London with a full remounting of the play at the National Theater.  Marat/Sade will be directed by veteran Los Angeles Director Kent Johnson.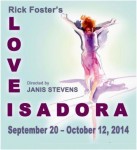 Finally, California Stage will revive Sacramento playwright and screenwriter Rick Foster's Love Isadora.  This solo show, running Sept 20th thru Oct 12th, follows the life of California modern dance pioneer Isadora Duncan and stars Elly Award-winner Lori Russo. It will be directed by Drama Desk Award Nominee Janis Stevens, with choreography by New York choreographer Tracy Eisenberg.
First Readings
California Stage will continue to develop plays for California audiences by presenting first readings of a play-in-progress by Joshua Laskey about Lincoln Steffens.  A Sacramento native little known in his home town, Steffens was instrumental in tearing down Tammany Hall–the fabled political racket that ruled New York City for over a century—and has been dubbed the Father of Investigative Journalism. He was a friend of President Theodore Roosevelt and played a prominent role in international politics.
California Stage productions play weekends in the three-theater complex  R25 Arts Center, 1721 25th Street at 25th Street in Midtown Sacramento. Show times are Fridays and Saturdays at 8:00 pm and Sundays at 2 PM. Ticket prices are $20.00 for general admission, $15.00 for military, students, SARTA members and seniors, and $12.00 for groups of six or more. Highly discounted Season Passes are available through March 1st by calling 916-451-5822.