Starting February 20th, California Stage mounts the West Coast premiere of local playwright Leslie Lewinter-Suskind's zany send-up Italian Opera featuring Sacramento News & Review's 2014 Best Local Actor Michael RJ Campbell.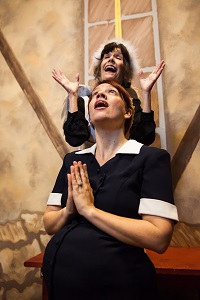 Leslie Lewinter-Suskind's hysterical lampoon Italian Opera roasts the art, the business, and everything in between.
Like the medium it mocks so well, the operetta sets desperate housewife Lucrezia Scarpoletto (Katherine Cooper) opposite shameless philanderer Nemorino Pollione (Michael RJ Campbell) in a plot to drag Lucrezia's inattentive husband Mario Scarpoletto (Jonathan Blum) back into bed. But when the suspicions of Nemorino's simpering spouse Vestalina (Naomi Wilson) are aroused, helped in no small part by the wily maid Zerbinetta (Janet Motenko), chaos ensues.
No opera composer is safe in this delightful musical romp.
Lewinter-Suskind, a resident of Sacramento, wrote Italian Opera while a graduate student at the University of New Orleans in the late 1990s. Entered for competition in the 1997 Region VI Kennedy Center American College Theatre Festival in Shreveport, Louisiana, it went on to the regional competition at the University of Oklahoma in Norman, where it won the award for Excellence in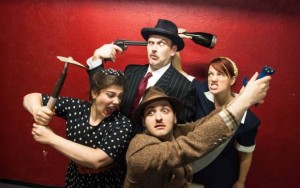 Playwriting. Lewinter-Suskind's score is being arranged for the production by Peter Kagstrom and David Taylor. Ray Tatar, award winning California Stage Artistic Director will direct. Scenic and Lighting design is by Niels Larsen.
Italian Opera will play February 20th thru March 22nd in the California Stage Theater at the R25 Arts Center, a three-venue complex located at 1721 25th Street in Midtown Sacramento.
Show times are Fridays and Saturdays at 8 PM and Sundays at 2 PM. Ticket prices are $20.00 for general admission; $15.00 for military, students, SARTA members and seniors; and $12.00 for groups of six or more. Highly discounted California Stage Season Passes are available through March 1st by contacting us at 916-451-5822 or calstage@gmail.com.