California Stage Announces its 24th Season
California Stage will mount four professional and world premiere productions throughout 2015 as part of its 24th Season. This "Year of Premieres" will begin with the West Coast premiere of local playwright Leslie Lewinter-Suskind's Italian Opera, followed by a summer of new and local voices as featured in the SacSoloSeries and Comics Come Alive!, and wrap up with the local premiere of Johanna H. Kraus' Angel in the Night.
Opening February 20th, local playwright Leslie Lewinter-Suskind's zany send-up Italian Opera roasts the art, the business, and everything in between. Lewinter-Suskind's hilarious operetta will feature Michael RJ Campbell, dubbed 2014's Best Local Actor in Sacramento by the Sacramento News and Review, and Elly Award-winning actress Janet Motenko among others under the direction of California Stage's own multi-award-winning director Ray Tatar.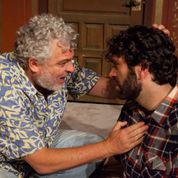 This summer, starting on June 12th, California Stage's SacSoloSeries will present two world premiere one-man-plays by beloved local actors Richard Winters (The Vanishing Point) and Robert Lautz. Winters' Sleeping in the Middle of the Bed gives the author's kaleidoscopic account of internet age divorce and dating, while The Third Date comically explores Lautz' victory over cancer. The two shows will run in repertory in the Dennis Wilkerson Theater.
California Stage will mount its most innovative endeavor of the season — Comics Come Alive! — in late June. Comics Come Alive! will introduce Sacramento theater goers and comic book aficionados alike to comics designed by local artists. Two new comic books will be brought to life through big screen projection and performances by professional voice-over actors and improvisational sound artists. The event will be held in the California Stage Theater, now outfitted with a new air conditioning system, the mornings of June 20th, 21st, 27th, and 28th.
Finally, California Stage's production of Angel in the Night by Bay Area playwright Joanna H. Kraus will debut new talent onto Sacramento stages later this summer as the culmination of an intensive summer education program taught by Michael RJ Campbell and Sabrina Fiora McLean. Winner of the American Alliance for Theatre and Education's 1996 Distinguished Play Award, Kraus' Angel in the Night tells the true story of a Polish Catholic teenager's courageous efforts to hide three Jewish neighbors during WWII.
California Stage productions play weekends at the R25 Arts Center, a three-venue complex located at 1721 25th Street in Midtown Sacramento. Show times are Fridays and Saturdays at 8 PM and Sundays at 2 PM unless otherwise noted. Ticket prices are $20.00 for general admission; $15.00 for military, students, SARTA members and seniors; and $12.00 for groups of six or more. Highly discounted California Stage Season Passes are available through March 1st by calling 916-451-5822.