California Stage presents "Social Distance Theater": a variety of theater, music, poetry and art shows from July 4th through Oct 31st, 2020!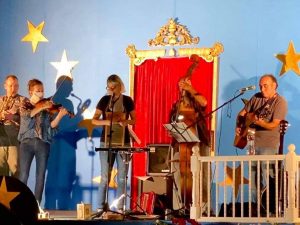 We're coming down the final stretch now — it's been a wonderful summer and fall of entertainment! Local performing arts companies and individual performers are presenting live music, bits and pieces of plays, stirring stories, poems and more for a limited socially-distanced audience, outdoors at California Stage! (Scroll down for the full schedule.)
California Stage has built a stage in the open-air courtyard with small group, safe-distance seating, to host a spiritually resuscitative time for all of us getting Covid stir-crazy!
It's all happening at the California Stage Arts Complex in our fabulous Open Air Courtyard, 1723 25th Street (25th and R), Sacramento.
Get out of the house and enjoy some relaxing early-evening entertainment this summer! Masks are recommended but not required.
All the fun started back on July 4th. (To see a list of past acts, please scroll down to the bottom of this article.) For the remainder of the season, enjoy these upcoming shows!
Oct 24th
A real treat, with David Houston and String Theory. Nationally acclaimed songwriter/producer/guitarist/music guru David Houston will perform, backed by the String Theory string quartet. Houston's sonorous voice and tasteful guitar juxtapose perfectly with the group's original quartet arrangements to produce a sound that is both melancholy and alive. Opening act: Singer/songwriter James Israel.
Oct 31st: FREE!
2-4PM: Halloween spooky stories for children and family!
This show is free. However, you must make reservations, as seats are limited! Call 916-451-5822.
Donations gladly accepted at the door!
Previously appearing at Social Distance Theater:
July 4th: Jessica Malone and Goriki.
July 11th: Steve and Francesca Homan.
July 25th: The Henry Robinett Group.
Aug 1st: Proxy Moon.
Aug 8th: Eva Nicholson from Surface Tension with Kathleen and Patrick Minor of You, You, You, with James Israel, singer/songwriter opening.
Aug 15th: Red's Blues, Fenix Dance and Drum, and The Talent Bazaar by Resurrection Theater, with opening act guitarist David Kamminga.
Aug 22nd: Todd Morgan and the Emblems, with Margret Moreau Resurrection Theater opening.
Aug 29th: Midtown Creepers, with opening act Jacam Manricks.
Sept 5th: The O'Mally Sisters, with opening act storytellers Jan Haag and Jessica Dailey-Keithline.
Sept 12th: Tim Holt, with opening act James Israel.
Sept 19th: Shelley Burns and Thomas Molina and the Yuppie Liberation Front.
Sept 26th: Steve and Francisca Homan, with opening act Fenix Drum and Dance.
Oct 3rd: Henry Robinett.
Oct 10th: Jessica Malone with Giorgi Khokhobashvili. Opening act: Frankie McCabe.
Oct 17th: Dr. Rock & The Stuff. Opening act: Strapped for Cash.