"The Case of the Goofy Groom" continues California Stage's "Third Age – Onstage" radio drama series!
Will the newlyweds survive their wedding day?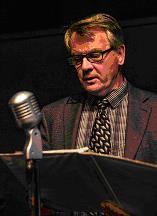 Just 10 bucks! Sit back with a free glass of wine and travel back to a day when the best Murder Mysteries took place in your own living room! You'll be part of the studio audience as we present a live radio drama from 1946, in which Nick and Nora Charles show class, sass and a lot of brass!
The Third Age will present this thrilling Murder Mystery, Saturday, March 24 at 8 PM, and Sunday, March 25 at 2 PM, in The Wilkerson Theatre at 1725 25th Street in Midtown Sacramento.
California Stage's "Third Age – Onstage," a professionally oriented company of senior actors, creates and presents theatrical productions for our audiences.
The company's live audience readings of vintage mystery, comedy and dramatic radio scripts (with sound effects) will be heard over radio station KUBU-FM (96.5). We will follow up with productions of these and other memorable scripts on one of our stages.
Call 916-451-5822, or email us at calstage@gmail.com for further information.