California Stage presents master storyteller Mark Lyon, March 2nd-11th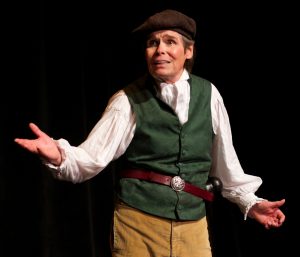 Journey back to a time, long ago, when Ireland was filled with enchantment and bedevilment brought about by supernatural entities who dwell within the invisible world 'Tween Earth and Sky; a time when a decent Irish man could hardly poke his nose outside the door of his own cottage without chancing upon spirits and witches and all manner of fairy folk who have the ability to bring either good luck or bad luck to mere mortals such as you and I.
Portraying twenty different roles, actor and playwright, Mark Lyon, who is called "a master storyteller" by the Times Colonist of Victoria, Canada, weaves a magical spell through the dramatization of six Irish tales of the supernatural. The tales range from a clever lad's attempt to outwit a leprechaun to a fiddler lured into the hall of the fairies, to a fatal churchyard wraith, to stones which weep tears of regret, to a financially ruined aristocrat's desperate bargain with the Devil and a rogue's harrowing journey seeking redemption while a talking corpse clutches tightly to his back.
The show will be presented at the California Stage, March 2, 3, 9 & 10 at 8:00 pm; March 4 at 2:00 pm and March 11 at 7:00 pm.
BUY TICKETS HERE or call (916) 451-5822.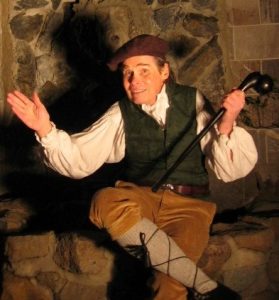 Mark Lyon, who is also a lyric tenor, has been enchanting audiences from Orlando, Florida to Victoria, British Columbia and across the Atlantic in stately castles in Ireland, with his unique blend of songs and stories as well as conducting historical walking tours for the last fourteen years in his hometown of Nevada City, California and in the nearby town of Grass Valley in which he relates the true tales behind wraiths said to haunt the towns' historic buildings and byways.
Mark Lyon has toured for years with his original one-man musical plays, including: On Yonder Hill: An Irish-American Love Story, The Bard of Erin (based upon the life and songs of the Irish poet, Thomas Moore) and Phil the Fluter's Ball (based upon the life and songs of Percy French); and his other one-man plays, Ghosties and Ghoulies and Long-Legged Beasties and Things that Go Bump in the Night and 'Tween Earth and Sky, Irish Tales of the Supernatural, as well as having been featured on numerous television and radio programs, most recently on Travel with Rick Steves.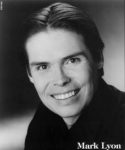 Lyon has been published regarding his original research in parapsychology and formally taught a university survey course on the subject of parapsychological phenomena.
His book, San Francisco Ghosts, relates not only the details of over one hundred true tales of ghostly manifestations but also the fascinating historical background behind the myriad of phantoms said to haunt a city which has, for so long, enchanted so many with its color, history and unique charm.
Reviews of 'Tween Earth and Sky:
"Irish folklore is a fickle beast: convoluted and complex in the hands of an amateur, but full of wonder in the hands of a master. Thank the saints that Mark Lyon is the latter. Lyon spins four Irish yarns, each of gathering complexity and tone, building up to a final tale whose announcement caused members of the crowd in the know fill the room with gratified cheers. Suddenly, the room was cast in a new light and the audience was now children, sitting around the fire to hear stories of the old country from their wise and eccentric sprite of a grandfather. It was a simultaneously an unnerving and magical experience."
— Showbill.ca
"The stories and Lyon's delivery are masterfully crafted; I hung on his every word for the full hour. Simple and magical."
— The Georgia Straight, Vancouver BC
"… pure joy for his audience."
— Monday Magazine, Victoria, BC
"It's easy to see how the "little folk" might still be abroad in the world today in this spell-binding show."
— Janis La Couvee, Victoria BC
"Nevada City's Mark Lyon doesn't seem like the sort of performer one associates with fringe theatre. A leprechaun-like little fellow in a tam o'shanter and a wee green vest, Lyon spins traditional Irish tales with a wink and a puckish grin.
"In short, Lyon's about as hip as your grandmother's lace doily collection. However, he is an excellent story-teller, approaching his craft with passion and intensity. 'Tween Earth and Sky works very well, reminding us once again that the essence of theatre is the ability to tell a tale well."
— Victoria Times Colonist, Victoria BC, received 4 Stars