California Stage presents master storyteller Mark Lyon, March 2nd-11th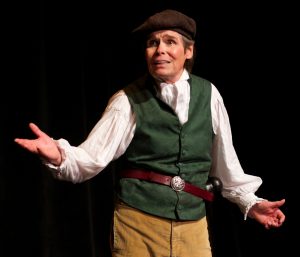 Journey back to a time, long ago, when Ireland was filled with enchantment and bedevilment brought about by supernatural entities who dwell within the invisible world 'Tween Earth and Sky; a time when a decent Irish man could hardly poke his nose outside the door of his own cottage without chancing upon spirits and witches and all manner of fairy folk who have the ability to bring either good luck or bad luck to mere mortals such as you and I.
Portraying twenty different roles, actor and playwright, Mark Lyon, who is called "a master storyteller" by the Times Colonist of Victoria, Canada, weaves a magical spell through the dramatization of six Irish tales of the supernatural. The tales range from a clever lad's attempt to outwit a leprechaun to a fiddler lured into the hall of the fairies, to a fatal churchyard wraith, to stones which weep tears of regret, to a financially ruined aristocrat's desperate bargain with the Devil and a rogue's harrowing journey seeking redemption while a talking corpse clutches tightly to his back.
The show will be presented at the California Stage, March 2, 3, 9 & 10 at 8:00 pm; March 4 at 2:00 pm and March 11 at 7:00 pm.
BUY TICKETS HERE or call (916) 451-5822. Continue reading →