California Stage revives Love, Isadora
California Stage will revive Rick Foster's smash-hit show Love, Isadora starting September 20th. Professional actress Lori Russo reprises her Elly Award-winning turn as Isadora Duncan, the mother of modern dance, with Janis Stevens' inspired direction.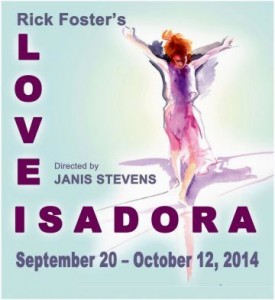 Russo, Stevens, and choreographer Tracy Eisenberg all collaborated with Foster in New York to present Love, Isadora during the Ensemble Studio Theatre's Oktoberfest in 2006. California Stage's 2008 staging of Foster's play brought the four together again in Sacramento–earning Elly Awards for Russo's performance and Stevens' direction, as well as Jessie Talbert's lighting design.
Foster has revised his bold drama since that time according to revelatory insights into Duncan's life and work that have surfaced within the past few years. Now, California Stage brings the illustrious, illusive Duncan back to life and explores her passionate obsessions with life, death, love, and art.
A devotee of classical music, dance, and poetry despite her humble San Francisco beginnings, Duncan shattered the western world's definition of dance with her natural, free-spirited style and emphasis on expression over rigid technique. Though life and love often proved cruel to the controversial artist, her dancing and committed teaching brought joy to audiences worldwide.
Don't miss this stunning take on one of the world's freest spirits and most revolutionary artists!
Rick Foster's Love, Isadora will open September 20th to run four weekends through Oct 12th, 2014 at the California Stage Theater in Midtown Sacramento; Fridays & Saturdays at 8pm & Sundays at 2pm.
California Stage Theater is located in the R25 Arts Complex, 1725 25th Street at R Street. Ticket prices are $20.00 for general admission, $15.00 students, SARTA members, Military and seniors, and $12.00 for groups of six or more. Easy free parking available.