California Stage revives Love, Isadora
California Stage will revive Rick Foster's smash-hit show Love, Isadora starting September 20th. Professional actress Lori Russo reprises her Elly Award-winning turn as Isadora Duncan, the mother of modern dance, with Janis Stevens' inspired direction.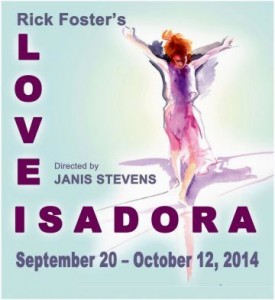 Russo, Stevens, and choreographer Tracy Eisenberg all collaborated with Foster in New York to present Love, Isadora during the Ensemble Studio Theatre's Oktoberfest in 2006. California Stage's 2008 staging of Foster's play brought the four together again in Sacramento–earning Elly Awards for Russo's performance and Stevens' direction, as well as Jessie Talbert's lighting design.
Foster has revised his bold drama since that time according to revelatory insights into Duncan's life and work that have surfaced within the past few years. Now, California Stage brings the illustrious, illusive Duncan back to life and explores her passionate obsessions with life, death, love, and art.