California Stage now readies for "Love Isadora"  — Opening Sept 20th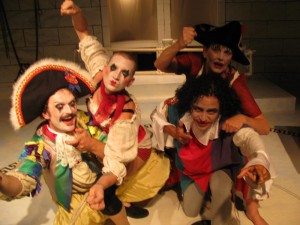 After California Stage's successful presentation of Marat/Sade, written by Peter Weiss, which ran from July 19th through August 10th, 2014, the company now gets a short rest, before they delve into the next project, a very different one — Love Isadora.
Weiss' avant garde masterwork became the most outrageous musical spectacle of the season, in the capable hands of director Kent Johnson and a fine cast.
Up Next
Coming next month, California Stage will revive Sacramento playwright and screenwriter Rick Foster's Love Isadora. This solo show, running Sept 20th thru Oct 12th, follows the life of California modern dance pioneer Isadora Duncan and stars Elly Award-winner Lori Russo. It will be directed by Drama Desk Award Nominee Janis Stevens, with choreography by New York choreographer Tracy Eisenberg.
California Stage productions play weekends in the three-theater complex  R25 Arts Center, 1721 25th Street at 25th Street in Midtown Sacramento. Show times are Fridays and Saturdays at 8:00 pm and Sundays at 2 PM. Ticket prices are $20.00 for general admission, $15.00 for military, students, SARTA members and seniors, and $12.00 for groups of six or more.
Calendar Listings of Love Isadora and ticket info can be found here. More information: 916-451-5822.