The Emmy-nominated Kent Johnson directs Marat/Sade
Emmy-nominated director Kent Johnson has taken the reins of Marat/Sade for California Stage this season. Having directed over 200 productions in his 68 year career, Johnson admits the show is his most challenging project yet.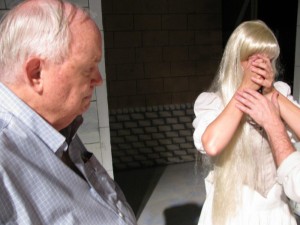 A graduate of Northwestern University, Kent began directing and producing in Orange County in 1965. His smash hit production of Stop the World—I Want to Get Off ran for an astonishing 16 weeks at the Anaheim Playhouse, making local history and setting the stage for the next forty years of his career.
His production of El Grande de Coca-Cola earned the National Community Theatre Award for Best Production, while his overall body of work earned him the Daily Pilot's 1975 Man of the Year Award and the title "Monarch of Musical Theatre" in Orange County from Tom Titus.
In addition to his theatrical work, Kent also produced and directed more than 1,000 television productions for cable and broadcast. He worked as one of first three producer/directors at KOCE-TV (PBS), and earned two Emmy Award nominations for one his many documentaries and for general excellence in news casting.
After completing post-graduate work at the University of California in Irvine, He taught acting and television production at various colleges and universities throughout southern California–including UC Berkeley, where he mentored California Stage's own Ray Tatar.
Now in his 80's, Kent has come out of relative retirement in Washington state to direct Marat/Sade. Given his many accomplishments and exceptional track record, Ray is confident that his long-time friend will deliver a spectacular, challenging production Sacramento audiences will never forget.