California Stage presents Marat/Sade

California Stage will open its highly anticipated production of Marat/Sade by Peter Weiss July 19th, 2014.  Veteran Los Angeles director Kent Johnson dives into Weiss' avant garde masterwork to create the most outrageous musical spectacle of the season. (Tickets available online here.)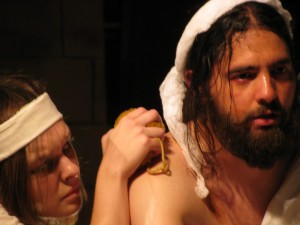 Weiss reveals what happens when the "1%" goes too far and takes too much in his grandiose and grotesque play-within-a-play.  In 1808, the infamous Marquis de Sade directs the inmates of the Charenton lunatic asylum in his own luridly critical take on the assassination of Jean-Paul Marat by Charlotte Corday and the French Revolution as a whole.  De Sade's fellow patients, lead by the Herald, voice their own discontent with the Marat's glorious Revolution through song, dance and pantomime set to live music.
Geman dramatist Peter Weiss shocked American audiences in the 1960's with Marat/Sade, which draws stylistically from such avant garde luminaries as Bertolt Brecht and Artaud and comments on Weiss' own times just as pointedly as it does de Sade's. The play premiered in London at the Royal Shakespeare Theatre under the direction of Peter Brook and then transferred to New York in 1965, where it earned the Tony Award for Best Play.  Last year, the play proved its continued relevance in London with a full remounting of the play at the National Theater.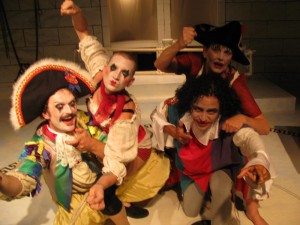 Ray Tatar produces California Stage's production of Marat/Sade, as the third show of the company's 2014 season.  Kent Johnson directs and Lori Russo choreographs.
The cast features Richard Spierto as the Marquis de Sade, Mark Gonzalez as Jean-Paul Marat, Sabrina Flora as Charlotte Corday, Michael RJ Campbell (Forum at STC) as the Herald.  Niels Larsen (Journey's End) provides scenic and lighting design.
Peter Weiss' Marat/Sade will open July 19th to run five weekends through August 10th, 2014 at the California Stage Theater in Midtown Sacramento; Fridays & Saturdays at 8pm & Sundays at 2pm.
California Stage Theater is located in the R25 Arts Complex, 1725 25th Street at R Street. Ticket prices are $20.00 for general admission, $15.00 students, SARTA members, Military and seniors, and $12.00 for groups of six or more. Easy free parking available. Reservations: 916-451-5822 or order tickets online here.
More photos: