'Winter's Waltz' to run Jan 19th through Feb 18th
California Stage Theater (R25) opens the 2018 season with the world premiere production of Winter's Waltz, written by renowned local playwright Richard Broadhurst and directed by Elly award winning actor and director Janis Stevens.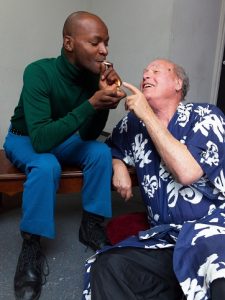 Set in the 1970s New York City, two strangers embark on a cat and mouse game after one invites the other into his apartment.  As they toy with one another, they explore what it means to live and die.
Playwright Richard Broadhurst has been both an actor and writer for almost 50 years.  As a writer, Richard has had plays produced all over the country, the Edinburgh Fringe Festival and the William Inge Theatre Festival.  He has written a number of screenplays, which have been optioned, one recently by Ed Asner's production company (GrantWorks).
Director Janis Stevens has worked as both an actress and director in theatres nationally and internationally.  She won the Elly Award for her direction of Love, Isadora at CalStage.  She directed the American Stage Company production of Sex With Strangers, which was nominated by Theatre Tampa Bay. She is a Capital Stage Artistic Associate and received Sacramento's Elly Award for Lifetime Achievement in 2015.
Loren Taylor returns to California Stage after starring in George Bernard Shaw's Widower's Houses directed by Janis Stevens and his Elly nominated performance in The Idea Man. Having begun his acting career in London and New York City, Loren has been seen, most memorably, in Sacramento, in Death of a Salesman, Waiting for Godot, How I Learned to Drive, Private Eyes and Fool for Love. He has performed locally at River Stage, Capital Stage, B Street Theatre and STC, while also working in documentaries, TV commercials and voice overs. Loren was featured in the cult classic film "The Revenge of the Chupracabra."
Tory Scroggins has starred in independent films and stage plays in Los Angeles, Sacramento and the Bay. He was awarded Outstanding Regional Actor at the 2017 Sacramento International Film Festival, the 2017 Outstanding Achievement in a Supporting Role from the Sacramento Area Regional Theatre Alliance and is in the film "Pomegranate" currently in festivals.
Winter's Waltz, by Richard Broadhurst, will run Jan 19th through Feb 18th on Fridays and Saturdays at 8 PM and Sundays at 2 PM in the California Stage Theater at the R25 Arts Complex, a three-venue center located at 1725 25th Street in midtown Sacramento.  Tickets are $12-$20 and may be purchased here or by calling (916) 451-5822.  Group sales available upon request.