California Stage Unveils the Local Premiere of a Rare Production
George Bernard Shaw's hilarious comedy about social climbers of the economic classes.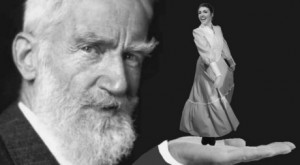 "Widowers' Houses" begins as a boy meets girl romance, but is soon we are treated to a hilarious satire on the garrulous social climbers of the economic upper-classes. (Read: 1% in US currency).
Blanche Sartorius is the spoiled daughter of a rich Realtor whose massive fortune has been made from milking poor renters in his sub-standard houses. An idealistic young doctor, Harry Trent has blindly courted Blanche until he discovers the declassé source of her father's wealth. Unfazed but still smitten, Harry asks if the couple could live on his modest income. Things seem headed for an unhappy ending as Blanche rejects the specter of Middle Class life. But the characters in this play — including the young lovers — are more pragmatic than heroic, and so Shaw cleverly manages a happy ending but with a sharply ironic twist.
Director Janis Stevens says that "Shaw's writing in 'Widowers' Houses' is titillating and as politically aware as it was when it was written." This early work of Shaw not only fulfills his hope to expose the hidden ties between pleasant people who imagine that the sordid dealings of slum-lords do not affect them, but it also entertains mightily. Shaw, with a wink, categorizes this play in his anthology as "Unpleasant."
The play will star a professional team of actors: Jessica Goldman Laskey as "Blanche Sartorious" and Loren Taylor as her scurrilous father. Rick Murphy will play as "Mr. Lickcheese," the family nemesis. The young lover Dr. Trench will be played by Robert August and the doctors' no-so-loyal sidekick, Mr. Cokane by Jeffrey Webster. Blanche's parlor maid will be played by Sophie Blackburn, The Porter by Kurt Kurtis, and the Waiter by Joshua Laskey.
Friday & Saturday at 8pm.
Sunday at 2pm.
March 30 through April 28, 2013.
General admission: $25.00. Students, military, SARTA members and seniors: $20.00. Groups of six or more: $15.00.
Easy free parking available. No late seating. Reservations: 916-451-5822 or order online at Brown Paper Tickets.
California Stage Theater at the R25 Arts Complex
2509 R Street (25th and R Streets)
Midtown Sacramento