CalStage welcomes Pen Valley's Marion Jeffery to star in its next World Premiere play.
"I've played in many productions at The Center for the Arts, The Miners Foundry and even the North Columbia Schoolhouse, but I never thought I would be asked to star in a new play in Sacramento!" says Sacramento theatre new-comer Marion Jeffery.
Catch her while you can! Tickets on sale now.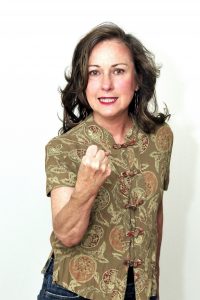 Marion will play the formidable role of Susan in California Stage's upcoming world premiere production of A Revolutionary Mind by award-winning playwright Leslie Lewinter-Suskind. The play follows the life of Susan, a vivacious Boomer activist who vows to change the world. Director Ray Tatar said, "Like the rest of us who survived the 60's, we hoped to make this world a better place, but ran into one crazy obstacle after another, and in many cases, the obstacles were part of our own human nature."
Tatar continued: "Marion is very talented. We are lucky to have found her because she will portray the enigmatic character of Susan with all of her contradictions aired out for everyone to see–everyone except but herself."
This sprawling odyssey of the mind flashes back to the early 1960's and winds its way back to 2001 with plenty of provocative twists and turns. Incorporating the American Civil Rights movement, 2nd wave feminism, and the complex political and social struggles within Argentina and Mexico, "Ms. Lewinter-Suskind's new play is really a stretch for any actor–any theater for that matter," Tatar stresses. "But we feel confident that audiences will find a bit of Susan in themselves. We're really glad that Marion accepted the role."
A Revolutionary Mind will run June 17th—July 17th (excepting Independence Day weekend) in the California Stage Theater at the R25 Arts Complex, a three-venue complex located at 1721 25th Street in Midtown Sacramento. Tickets on sale now.