For one weekend only, California Stage Theater Company will honor Dublin's fallen and celebrate its fighting spirit with Ray Tatar's EASTER RISING: DUBLIN 1916.
This moving Readers Theater piece commemorates the 1916 Dublin uprising that sparked a revolution. Four performances will be given March 18th-20th in the California Stage Theater:
Friday, March 18th @ 8pm
Saturday, March 19th @ 2pm & 8pm
Sunday, March 20th @ 2pm
Tickets are on sale NOW!
Ray Tatar's Easter Rising: Dublin 1916 takes audiences into the rough and tumble streets of Dublin during the infamous insurrection. Told from the diverse perspectives of the people who lived it–unsuspecting bystanders, a Priest dragged by duty into the fray, and young revolutionaries fighting for their freedom—Tatar's evocative piece captures the hope, the fear, and the rage of a people swept up in revolt.
Easter Rising features live music and song by Mike Euritt, Shane Carpenter and Robert Scott and an all-star cast including Gay Cooper, Tom Witchie, Ovation Stage's Penny Kline, James C. Anderson, Zachary Coles, Cynthia Drumbor, Joss, Lucio, Scott Griffith and Mahlon Hall Greenhalgh who bring first-hand accounts of the Uprising to impassioned life. Author and California Stage Producing Artistic Director Ray Tatar directs.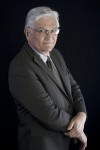 Ray Tatar has been the Producing Artistic Director of California Stage for 15 years, succeeding the late Dennis Wilkerson. He served as Theater and Literature Grants Administrator for the California Arts Council for 26 years, as well as the founding Executive Director of the Los Angeles Theater Alliance and Founder of the Sacramento Area Regional Theatre Alliance (SARTA). For the past 8 years he has hosted LiveWire, a weekly television talk-show on arts and social services in the Sacramento region.
Easter Rising only runs one weekend only–so get your tickets before their gone!