CalStage sits down with Happy Armenians creator and Vista Players Artistic Director Aram Koujoumdjian
CalStage: How did you find your way to Sacramento?
Aram: I'm Armenian by ethnicity, but I was actually born in Beirut. I spent my earlier years there and my formative years in Los Angeles. I attended UCLA for undergrad and got my B.A. in English, then moved up to Sac for law school at UOP McGeorge School of Law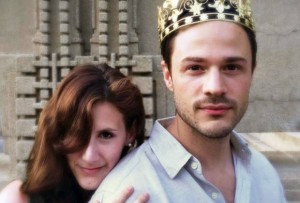 CalStage: What got you into theatre?
Aram: I've loved theater from a very early age. I used to go see productions at the playhouse in the Armenian Quarter of Beirut — by myself — before I was even 10. I was writing full-length plays by high school.
CalStage: How did Vista Players come about?
Aram: Vista Players came about to fill a void in Sacramento theater because at the time there were very few contemporary plays of social relevance being staged. Far too many local companies were devoted to staging light comedies and farces, and I felt there was an audience for more substantive fare that was being underserved. So we embarked on our niche journey in 1999 with John Guare's Six Degrees of Separation. We staged eight productions over the nest six seasons.
CalStage: What kind of "substantive fare" did you bring to Sacramento?
Aram: I gravitate to current writers, particularly those who incorporate surreal or absurdist elements into their works. Throughout our time in Sacramento we produced Edward Albee's The Play About the Baby, Caryl Churchill's Far Away, and Tom Stoppard's Arcadia to name a few. We put our heart and soul into Arcadia, creating everything from scratch from the period costumes to the handwritten letters that would be destroyed each night during the performance. We opened up our final pick-up rehearsal to the public because of demand.
CalStage: Can you share some of your other favourite Sac Vista Players experiences?
Aram: Shooting on-location slides for Three Hotels with nearly 30 actors even though the play itself has a cast of two, then projecting them during the course of the performance as external events were referenced. Winning an Elly Award as Best Director for that made the experience even lovelier. Besides that, I would say working with some of the finest actors and actresses in the city and building long-term collaborations with them, akin to a repertory company.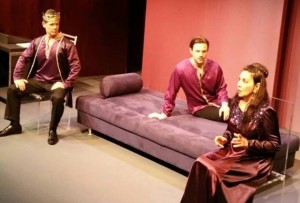 CalStage: What about your own writing? How much have you gotten to pursue that since you came here?
Aram: Well, my play The Farewells became our … well, farewell production in Sacramento and I was honoured with a second Elly for writing. My one-person plays Protest and The Delicate Lines were performed at CalStage in 2005, with subsequent performances in L.A. and San Francisco. Protest was performed at the Finborough Theatre in London as part of an evening of Spoken Word entitled "I Wish to Die Singing." The Delicate Lines also received a staged reading at the Finborough. In 2006, Little Armenia, a play I co-wrote, was performed at the Fountain Theatre in L.A.
CalStage: What took you to L.A?
Aram: I moved back to L.A. about a dozen years ago in 2004, since my family is down there and I'm a big-city boy. I devoted some time to obtaining an M.A. in English literature from Cal State Northridge, but in 2014 I delved back into theater with an adaptation of Levon Shant's Ancient Gods. In the spring of 2015 I staged i Go On, an open-air, site-specific performance at Grand Park in downtown L.A. in conjunction with a massive photographic installation entitled iWitness.
Catch Aram Kouyoumdjian and Vista Players at the Sacramento premiere of his latest play, Happy Armenians starting Feb 19th. Tickets available NOW!