California Stage and Vista Players present HAPPY ARMENIANS with its original L.A. cast.
Elly Award-winning playwright and director Aram Kouyoumdjian returns for the Sacramento premiere of his latest work Happy Armenians presented in a joint production with California Stage Theater Company and Vista Players. Featuring the play's original L.A. cast, the production will enjoy a special two weekend run February 19th-28th prior to its New York engagement.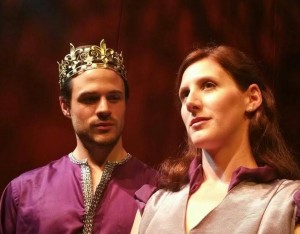 A funny, imaginative, and poignant rumination on love, war, and the burdens of history, Happy Armenians upends the world order as we know it by casting Armenia as a modern empire in its parallel version of history. But when its king has only 30 more days to live, Levon, the unexpected (and unwilling) heir to the throne, must suddenly wrestle with the world's most delicate geopolitical crises–a war against Switzerland, the colonization of Europe, and Africa's control of the global economy–along with his budding love for the brilliant scientist, Siran.
Reviewers hailed the play's L.A. world premiere this past October as "captivating" (Monica Astacio of El Vaquero) and "smart, fun, fresh & cleverly executed" by "an amazing technical and artistic team" (Lorenzo Marchessi). Happy Armenians boasts a stellar cast led by Daniel Hubbard as Levon and featuring the talents of Heather Lynn Smith, Tavis L. Baker, Jade Hykush, and Gregory DePetro. Kouyoumdjian's "thrill ride across time and space" (Ishkhan Jinbashian of Asbarez) even garnered a Best Stage Play (Drama) nomination from the NoHo Fringe Festival.
Vista Players is an award-winning theater ensemble devoted to staging contemporary plays of social relevance originally launched in Sacramento.  California Stage is happy to open its 25th Jubilee Season co-producing such a smart, funny, poignant play.
Catch Happy Armenians before its gone! Tickets on sale NOW!