California Stage has begun a new season of exciting and inspiring plays.
Opens March 4th! "An Iliad"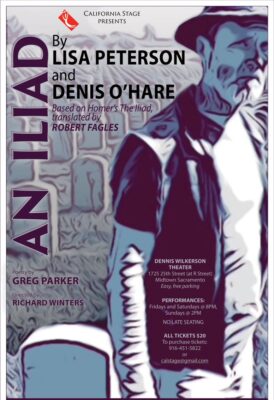 An Iliad embodies all that is vital to theater.
A timeless story. Brilliant writing. A Life shattering conflict.
Nothing else is needed. Except a solitary Poet willing to step upon a simple stage in front of an audience willing to be transported… again.
Paris has taken Helen. Helen, whose beauty now launches a thousand Greek ships to bring her home. It's a matter of Honor. Of Pride. Of Heroism. Of Greed. Of Life And of Death
And of Fate… always Fate.
The Trojan War… Achilles and Hector. Agamemnon and Petrocolus. Athena and Apollo. The Gods of Old taking sides. Pushing. Teasing. Manipulating.
Written by Homer thousands of years ago, An Iliad asks… No… begs us to remember the horrors of war. The nobility of sacrifice. The beauty of love. The hubris of ego. And the power of story to unite us.
Please join us for this remarkable evening of storytelling. Allow the Poet to embody the beauty of Homer's language. Allow him to awaken and stir you. And allow the Muses of Old to touch your soul as you surrender yourself to the Epic struggle that is An Iliad.
We will present this remarkable piece of theater starting on March 4th for five weekends.
Why Don't You Sit on My Lap?
One challenging student.
One burned out teacher.
One Ill-advised comment.
The drama isn't staying in the classroom…
This is an original play by a group of emerging theater artists featuring young playwrights. The story is loosely based on an incident in a Sacramento high school.
These plays and others coming in 2022! Watch this space for more on the upcoming season as it develops!