Three featured actors in the upcoming California Stage production Marat/Sade
With a cast of more than a dozen local actors, the California Stage will be filled with stars ready to shine come July 19th, when they present Marat/Sade. Meet three of them right here!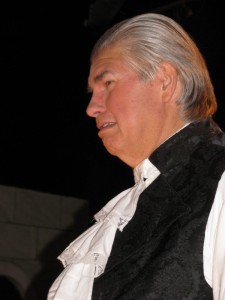 Richard Spierto — The Marquis de Sade  Richard leads California Stage's illustrious cast alongside Mark Gonzalez (Jean-Paul Marat), Sabrina Fiora (Charlotte Corday), and Michael RJ Campbell (the Herald).
Richard's career as an actor, director, producer, and scenic and lighting designer spans 40 years, and like his infamous character, he is no stranger to controversy and social activism. Three years ago, he directed Frank Wedekind's highly controversial Spring Awakening for The Alternative Arts Collective. He has also served as the President of the Sacramento Gay Men's Chorus and the West Coast Coordinator for "The Cycle of Life" cycling tour, which funds critical services for those diagnosed with HIV and AIDS.