Join Us for Two Great July Musical Events: Darden and Chris Williams!
DARDEN: On tour "For LOVE & HARMONY"
ONE PERFORMANCE ONLY JULY 15 at 2PM!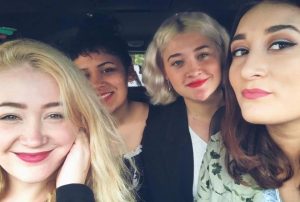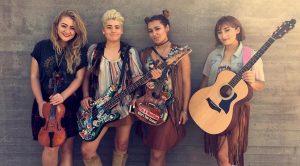 You won't want to miss this unique performance by Darden, a dynamic four-piece ensemble of sisters. They bring an "Alternative Americana" sound to the stage.
The Darden Sisters are comprised of Selah, on the violin; Clarah, the guitarist; Havi on mandolin, and Tabbi, the bassist. All four are vocalists in the group, focusing on harmonies and musical blends.
Raised on the California Coast in a family of musicians, the Dardens grew up surrounded by musical influences from almost every genre. Originally, their vocals were backed by Grandpa Joe Tatar on honky-tonk style piano, but eventually, each of f them decided picked up instruments, and formed their own musical entity.
Each of the sisters are songwriters in the group, and now play several instruments each. They have developed a sound which has been dubbed "Alternative Americana."
More on the Darden Sisters here.
BUY TICKETS: $15 Students, Seniors; $20 General Admission.
CHRIS WILLIAMS: "Torched: Songs That Ruined Our Lives"
JULY 13,14 at 8PM, and JULY 15 at 6PM!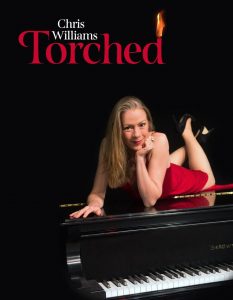 California Stage invites you to get Torched! with Christine Williams, as she performs her cabaret show Torched: Songs that Ruined our Lives, July 13-15 at California Stage Theater.
This workshop production is written and performed by Ashland actor and director Christine Williams and directed by local director Megan Cooper. Join Chris as she explores the crazy world of singing songs written by men for women to sing about how they are supposed to feel about men, assisted on the piano by local music director Gerald Rheault.

Raised to wait and then left behind, what's an ingénue to do? If songs have power to shape our lives, then it matters what we choose to sing. One girl's journey to finding her voice.
Christine Williams is an actor, singer, and artist instructor on the Oregon Center for the Arts at Southern Oregon University voice faculty. Her credits include many seasons with the Oregon Shakespeare Festival as well as productions at Berkeley Repertory Theatre, La Jolla Playhouse, Milwaukee Repertory Theatre, Aspen Music Festival, American Opera Projects in NYC, and the Barbican Centre in London.
Megan Cooper is a director, musician and actor, who has recently returned to her hometown of Sacramento. Since being back in Sacramento, Megan has appeared in the cabaret Porch Time and participated in the festival of "lost" Shakespeare plays at CalStage. Her credits include the Under the Radar Festival at The Public Theatre, the Midtown International Theatre Festival, The Shaw Project, The Victor Herbert Renaissance Project, and the Arcola Theatre in London.
TORCHED: Songs that Ruined our Lives will run July 13th  & 14th at 8pm, July 15th  at 6pm in the California Stage Theater at the R25 Arts Complex, a three-venue center located at 2509 R Street in Midtown Sacramento.  Tickets are $15-$20 and may be purchased online at www.calstage.org or by calling (916) 451-5822.  Group sales available upon request.
BUY TICKETS: $15 Students, Seniors; $20 General Admission.