Second of the "Third Age – Onstage" live radio drama series!

The Thing in the Window, the latest in a live radio drama series presented by California Stage, will play this weekend only in the Three Penny Theatre!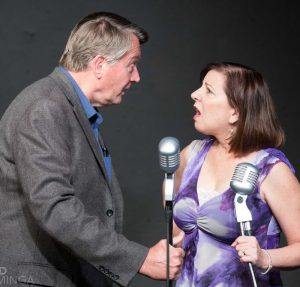 "Mr. Aimes sees a dead man in the window across the way ."
10 Bucks and a glass of wine, and you can travel back in time when radio stations presented the very best in Murder Mysteries. Be part of the studio audience as we present a radio drama from 1946 that features a man who thinks he sees a dead body in the window opposite his … and watch what  happens when he goes to investigate!
The Three Penny Theatre  will present The Thing in the Window  this Friday at 8 PM, Saturday at 8PM, and Sunday at 2PM, at 1725 25th Street in midtown Sacramento.
Sacramento's California Stage will continue to present "Third Age – Onstage" series over the next few months. A professionally oriented company of senior actors create and present  these theatrical productions for Sacramento audiences.
The company will present a group of vintage radio scripts (mystery, comedy, etc) in readings — sound effects and all — before live audiences. They will be broadcast over radio station KUBU-FM (96.5).