Two friends from high school reunite after many years in "Porch Time – A Cabaret"  – One night only, Sunday, August 6th!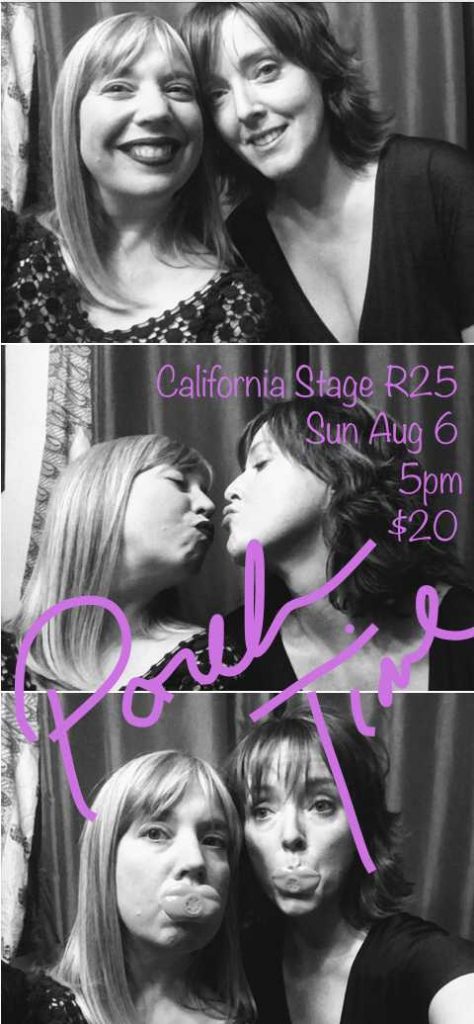 Come join Margery Bailey and Megan Cooper, two friends from Sacramento High School, at California Stage as they reunite after many, many years and discover the life the other has led. On August 6th at 5pm, take a break from the heat and enjoy the cool sounds of Bailey and Cooper.
Grab a glass of wine or cool beverage and join Margery Bailey and Megan Cooper as they relax, sing, and recount stories of their pasts, hopes for the future, set the world to rights, with maybe a little "pontifidrinking" thrown in there.
Margery Bailey has performed regularly in Northern California, where she has sold out cabarets in San Francisco and Sacramento and was a regular at The Plush Room in San Francisco and Max's Opera Café in Sacramento.  Favorite shows include: Falsettos with Lambda Players here in Sacramento, Night of the Iguana in Berkeley and Serenity an original rock musical in San Francisco.  Ms. Bailey has also taught yoga all over the world, including: Sacramento, San Francisco, Los Angeles, Oregon, Seattle, Chicago, Hawaii, New York, Tel Aviv, and Mexico.
Megan Cooper returns to Sacramento having worked as an actor, musician and director of theatre and opera in New York, Philadelphia and London.  She currently curates "The Salon" in New York City devoted to exposing audiences to people, ideas and forms of expression they might not otherwise have the opportunity to experience.  She has performed or directed at such places as The Public Theatre's Under the Radar Festival and La Mama in New York, and The Arcola and The Criterion Theatres in London. Ms. Cooper is a company member of The Shaw Project, Victor Herbert Renaissance Project, and The Killington Shakespeare Retreat companies in New York City.
Margery Bailey and Megan Cooper: "Porch Time" is one night only, Sunday, August 6th, at 5pm in the California Stage Theater at the R25 Arts Complex, 1725 25th Street at 25 and R Streets in midtown Sacramento.
Ticket prices are $20.00, for general admission, $15.00, for military, students, SARTA members and seniors, and $15.00 for groups of six or more. Easy free parking available. Reservations: 916-451-5822 or order online here.