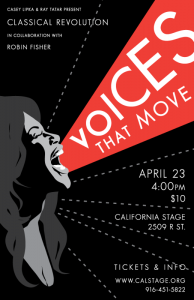 Join Casey Lipka and Robin Fisher for "Voices that Move." An afternoon of soulful melodies, spoken word and dance collaborations woven into one seamless performance. Works by pianist Jacqui Hairston. Musicians from Classical Revolution Collective including clarinetist Brennen Milton.
The event will happen April 23rd, at 4:00pm, at California Stage. Tickets are just $10. See Event Listing.
Join Casey Lipka's Classical Revolution Sacramento as chamber music bursts out of the concert hall into a relaxed setting where barriers are broken and listening is fun. Enjoy performances by Casey Lipka, pianist Jacqui Hairston, clarinetist Brennen Milton, and more.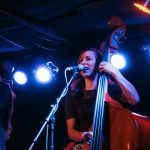 Casey Lipka is establishing herself as an emerging talent in the next generation of jazz musicians. She draws from blues, jazz, funk, hip-hop contemporary and Brazilian music to create her own eclectic sound. She attended Concordia University in Montreal, Canada where she was introduced to jazz and started to study music formally. Since then she has completed a degree at Sacramento State University in jazz voice and improvisation under the instruction of Julia Dollison. Casey performs locally in the Los Angeles and Sacramento areas.