Three Arts Groups Join Forces to Lampoon Trump's Inauguration at California Stage

On January 20th, the day Donald Trump is inaugurated as America's 45th president, California Stage — together with Resurrection Theatre and Generation 7 Productions — will present The Inauguration Protestation: An Evening of Theater, Comedy and Rock & Roll. (Please get your TICKETS here, not with our usual button on the upper right of this page.)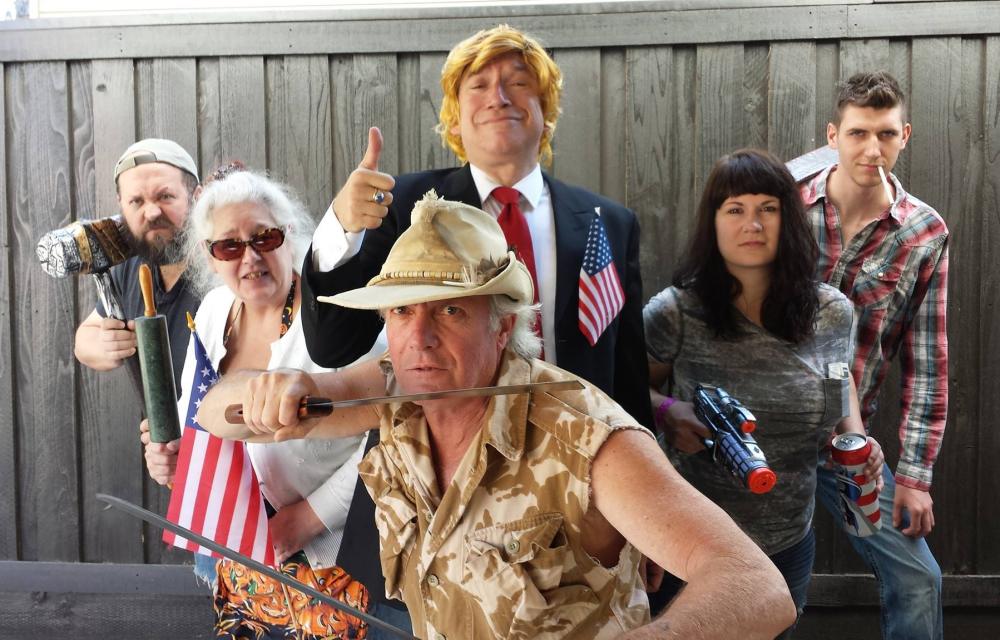 The festivities will start at 7:30pm with Resurrection Theatre's reading of The Taming by Lauren Gunderson. In this hilarious, raucous, all-female "power-play," inspired by Shakespeare's Taming of the Shrew, Miss America contestant Katherine has political aspirations to match her beauty pageant ambitions. All she needs to revolutionize the American government is the help of one ultra-conservative senator's aide on the cusp of a career breakthrough, and one bleeding-heart liberal blogger who will do anything for her cause. The performance features Beth Edwards, Kate McDermott, Katie Kemp, and Robin Southworth. Rob Hurwitt of the San Francisco Chronicle calls Taming "… a laugh riot with some timely food for thought."
At 8:45, Generation 7 Productions presents DT and The Deplorables. Parody, satire, and a healthy dose of rock and roll will rule the evening. The infamous DT, fresh off his bloody election victory and inaugural crowning, is more pumped-up and pompous than ever. DT and his band of "Deplorables," rip through a driving set of original songs, including "The Presidential Blues," "I Am an Ist," and "Badass Business Man," as he crows about his victory, secretly frets over the awesome task he feels unqualified for, and bullies everyone in sight. Several times throughout the set, DT is visited by former presidents and luminaries of the past, who either hilariously take him to task, or try to wheedle their way into his good graces for their own benefit. DT and the Deplorables features Gary Michael Weinberg, Robert Greene, Douglas Wolfe, Fred Nelson, and Michael Pollack.
Proceeds from the evening will go to Women's International League for Peace and Freedom (WILPF). The Women's International League for Peace and Freedom was founded in 1915 during World War I, with Jane Addams as its first president. WILPF works to achieve through peaceful means world disarmament, full rights for women, racial and economic justice, an end to all forms of violence, and to establish those political, social, and psychological conditions which can assure peace, freedom, and justice for all.
The Inauguration Protestation: An Evening of Theater, Comedy and Rock & Roll will take place on January 20th, 2017 at 7:30pm at California Stage, 2509 R Street, Sacramento 95816. Tickets are $20. For information call 916-223-9568 or 818-458-6637.
Get your TICKETS here – not with our usual button on the upper right of this page!