Auditions are being held for CalStage's World Premiere production Saturday, May 7th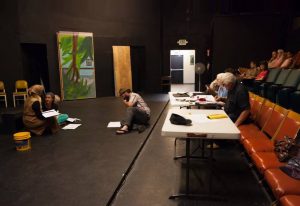 Auditions will be held for:
Revolution of the Mind
BY Leslie Lewinter-Suskind
DIRECTED BY Ray Tatar
**A World Premiere**
Auditions: Saturday, May 7th, 10am-12pm
THE CALIFORNIA STAGE THEATER
2509 R Street Sacramento, CA 95818
From the author of last season's smash hit Italian Opera comes something completely different. Revolution of the Mind follows activist housewife Susan down the rabbit hole when her daughter is kidnapped. An avid disciple of documentary filmmaker Raimundo Gleyzer, Susan must reconcile the contradiction of a life lived and ideals espoused that may force her daughter to meet Gleyzer's same gruesome fate.
The production will run June 17th – July 17th (five weekends) Fridays and Saturdays at 8:00pm and Sundays at 2:00pm.
AT THE AUDITION
1. Bring a Resume and photo.
2. There will be cold readings from the script.
3. Audition scripts for Scenes are available upon request — look at the character descriptions below and then call to discuss.
Auditioning for ONE female role 20s-60s — all other roles pre-cast.
Susan: American female, can play 20s-60s; a college-educated, caustic and feisty social activist active during the 1960s who slowly but unwillingly settled down to the life of wife and mother.
Non-AEA Artists will be seen from 10am-11am
AEA Artists will be seen from 11am-12pm
Contact Producing Artistic Director Ray Tatar to audition
916-600-9536 • Calstage@Gmail.Com