After a 4 star run at the Edinburgh Festival Fringe, CATALPA comes to California Stage Sept 19th!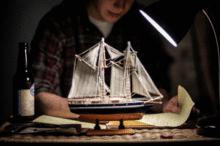 What: Catalpa by Donal O'Kelly
When: Saturday, September 19th @ 8pm
Where: Three Penny Theater at the R25 Arts Complex, 1725 25th St, Midtown Sacramento
Tickets: $14.45 online or $16.00 at the door
35 Brookline Productions brings its tour-de-force Catalpa to California Stage before continuing on to the highly selective United Solo Fest in NYC. The company was founded by recent Emerson College graduates who premiered the show at Emerson College spring 2013 to a sold out run.
Now, Sacramento audiences have the opportunity to see what critics the world over are raving about: "For all its filmic allusions it's a great celebration of live theatre, as well as a comment on Hollywood's shimmering illusion."
— Edinburgh Guide
The Story: After bombing his first Hollywood pitch, aspiring screenwriter Matthew Kidd re-enacts his entire screenplay to his empty room in a final act of desperation. His magnum opus brings the Catalpa rescue, a daring 18th century prison break from Australia spanning two continents, to fresh and exuberant life.
Be a part of this exciting new play!