Changes big and small at the R25 Arts Complex set to "Boost Artistry" and "Build Community," according to Producing Artistic Director Ray Tatar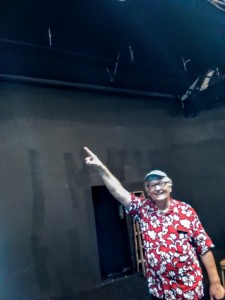 Change is definitely in the air at R25. This summer, with multiple productions, programs, and classes in full swing as always, Producing Artistic Director Ray Tatar has found time to make some key renovations to the California Stage Theater and the Poetry Center. More plans are in the works, but Tatar already sees the difference these changes are making.
The California Stage Theater has recently been equipped with a new suspended ceiling. Artists working in the space are already enjoying its impact. After installation, Tatar immediately noticed less echo in the space as well as a welcome 20 degree drop from Sacramento's scorching outside temperatures.  Strategically mounted down-draft fans and air conditioning units now also blow cool air into the venue's seating area creating a much more enjoyable experience for summer patrons.
An improved lighting system with new fixtures from Sacramento Theatrical Lighting will also help the diverse artists who use the space "take more artistic risks" says Tatar. The space is known for hosting a wide variety of endeavors each year—from straight plays and musicals to dance to sketch comedy—and he hopes the space's broadened capabilities will help everyone push the limits of their art form. His eventual goal is to install a 3 ton air conditioning unit, which would come with a $6,000 price tag.
Improvements are also imminent for the Poetry Center. R25's most intimate, multi-purpose venue hosts poetry readings, seminars and classes, art exhibitions and more. New, seamless flooring and better insulation are being installed and a fresh coat of paint applied to make the venue a more comfortable place for writers to work.
More renovations and extensions are in the planning phase for R25, including a café area next to the Wilkerson Theater where patrons can gather, relax, and enjoy the Complex's constant hubbub. Talks about solarization of the Complex are also ongoing with SMUD.
"The resident theatre companies, artists, and cultural organizations operating out of the R25 Arts Complex provide an immeasurable and invaluable infusion of art, energy, and culture to Sacramento," says Producing Artistic Director Ray Tatar, who has been running the Complex for over 15 years. "We at R25 want to support them as they provide that service as much as we can."