Changes big and small at the R25 Arts Complex set to "Boost Artistry" and "Build Community," according to Producing Artistic Director Ray Tatar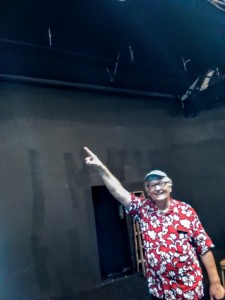 Change is definitely in the air at R25. This summer, with multiple productions, programs, and classes in full swing as always, Producing Artistic Director Ray Tatar has found time to make some key renovations to the California Stage Theater and the Poetry Center. More plans are in the works, but Tatar already sees the difference these changes are making.
The California Stage Theater has recently been equipped with a new suspended ceiling. Artists working in the space are already enjoying its impact. After installation, Tatar immediately noticed less echo in the space as well as a welcome 20 degree drop from Sacramento's scorching outside temperatures.  Strategically mounted down-draft fans and air conditioning units now also blow cool air into the venue's seating area creating a much more enjoyable experience for summer patrons.