Starting February 20th, California Stage mounts the West Coast premiere of local playwright Leslie Lewinter-Suskind's zany send-up Italian Opera featuring Sacramento News & Review's 2014 Best Local Actor Michael RJ Campbell.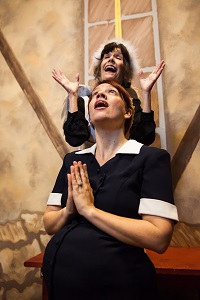 Leslie Lewinter-Suskind's hysterical lampoon Italian Opera roasts the art, the business, and everything in between.
Like the medium it mocks so well, the operetta sets desperate housewife Lucrezia Scarpoletto (Katherine Cooper) opposite shameless philanderer Nemorino Pollione (Michael RJ Campbell) in a plot to drag Lucrezia's inattentive husband Mario Scarpoletto (Jonathan Blum) back into bed. But when the suspicions of Nemorino's simpering spouse Vestalina (Naomi Wilson) are aroused, helped in no small part by the wily maid Zerbinetta (Janet Motenko), chaos ensues.
No opera composer is safe in this delightful musical romp. Continue reading →