"The Case of the Careless Client," this Thursday & Saturday, Feb. 8th & 10th, in the Wilkerson Theatre, California Stage!
California Stage presents The Case of the Careless Client, a live radio drama, will be staged in the Wilkerson Theatre at the R25 Arts Center, Thursday, Feb 8th at 8pm and Saturday, Feb 10th at 2pm.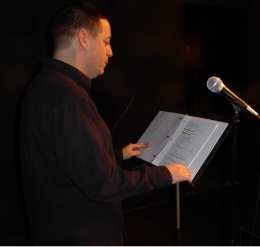 On his very first visit to America, Hercule Poirot discovers … (what else?) … a dead body!
For 10 bucks, you'll get a glass of wine and a trip back to a day when the best Murder Mysteries took place in your own living room! Be a part of the studio audience as we present a live radio drama from 1946, in which Hercule Poirot, seeking an apartment in New York City, instead finds … Murder!
The Third Age, an ongoing live radio drama series, will present this thrilling Murder Mystery. Continue reading →