California Stage Announces its 24th Season
California Stage will mount five professional and world premiere productions throughout 2015 as part of its 24th Season. This "Year of Premieres" will begin with the professional premiere of local playwright Leslie Lewinter-Suskind's Italian Opera, followed by a summer of new and local voices as featured in the SacSoloSeries, Comics Come Alive!, and Angel in the Night. California Stage will close the season with the world premiere production of Richard Broadhurst's Resting Place featuring Janis Stevens and Richard Winters.
Opening February 20th, local playwright Leslie Lewinter-Suskind's zany send-up Italian Opera roasts the art, the business, and everything in between. Lewinter-Suskind's hilarious operetta will feature Michael RJ Campbell, dubbed 2014's Best Local Actor in Sacramento by the Sacramento News and Review, and Elly Award-winning actress Janet Motenko among others under the direction of California Stage's own multi-award-winning director Ray Tatar.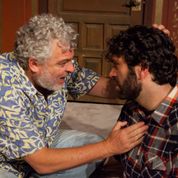 This summer, starting on June 12th, California Stage's SacSoloSeries will present two world premiere one-man-plays by beloved local actors Richard Winters (The Vanishing Point) and Robert Lautz. Winters' Sleeping in the Middle of the Bed gives the author's kaleidoscopic account of internet age divorce and dating, while The Third Date comically explores Lautz' victory over cancer. The two shows will run in repertory in the Dennis Wilkerson Theater. Continue reading →