Due to medical problems, the play "RFK" has been cancelled.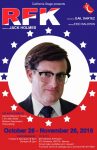 "RFK" was to run Oct. 28th through Nov 26th of this year, closing out the 2016 season. There will be no replacement show.
We're very sorry, but it could not be helped. We were looking forward to staging this wonderful play in an election year, but it is not to be.
The Jeannette Rankin event will still be held as scheduled, Nov 5th, sponsored by WILPF.
Please watch this space for information on the 2017 season. Thank you for your support, and see you next year!