Casting notice for "Journey's End"
Producer Ray Tatar and Director Mark Heckman announce casting for:
"JOURNEY'S END" by R.C. Sherriff at Wilkerson Theater, 1725, 25th Street Sacramento, CA 95818.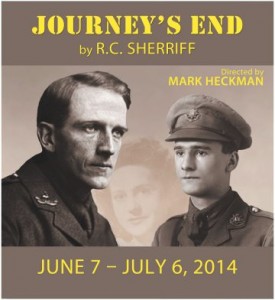 Auditions: SATURDAY MARCH 8, 10AM TO NOON
Bring a resumé and headshot (if you have these).
Call Ray Tatar 916-600-9536 with any questions.
Sherriff's 1929 play is about life in the trenches in the First World War. This powerful play endures in the tradition of great drama because until wars are at an end, the human race will continue to question what our reaction should be to the cycle of killing and being killed in the name of foreign policy. Sherriff's play creates real characters, some of whom deal better than others with the stresses of warfare in the trenches, the close proximity of the enemy and the pointlessness and inevitability of dying. Continue reading →