CalStage honors beloved Bay Area actress and clown Joan Mankin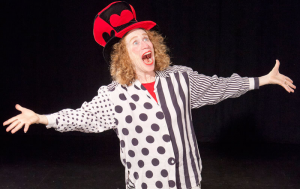 "Joan Mankin was a glutton for life, and made the most of it," writes Joan Holden for American Theatre magazine. Her career of performing as clown, actress, mentor, and friend to countless Bay Area thespians more than proves the point. She has been remembered since her passing as generous, passionate free spirit whose artistry pushed boundaries.
After earning her Masters from San Fransisco State University, Joan Mankin exploded onto the Bay Area scene in 1970 with the San Fransisco Mime Troop's An Independent Female. As an innocent ingenue struggling to balance career and family she not only introduced San Fransisco to her fabulous talent and comic sense, but to her sharp feminism. Both would leave the community changed for ever.
Over the years she worked with the Bay Area's biggest LORT houses as well as its smaller itinerant troupes–from American Conservatory Theatre and Berkeley Rep to the Pickle Family Circus and everything in between. "Emotionally and physically, she was no mere mortal" John Moscone told the San Fransisco Chronicle, "she defined so much of our theatrical culture, and I was lucky to have worked with her and known her."
Though she succumbed to ALS and early onset dementia this past September, Joan's spirit will undoubtedly live on in the hearts of those touched by her and her work.